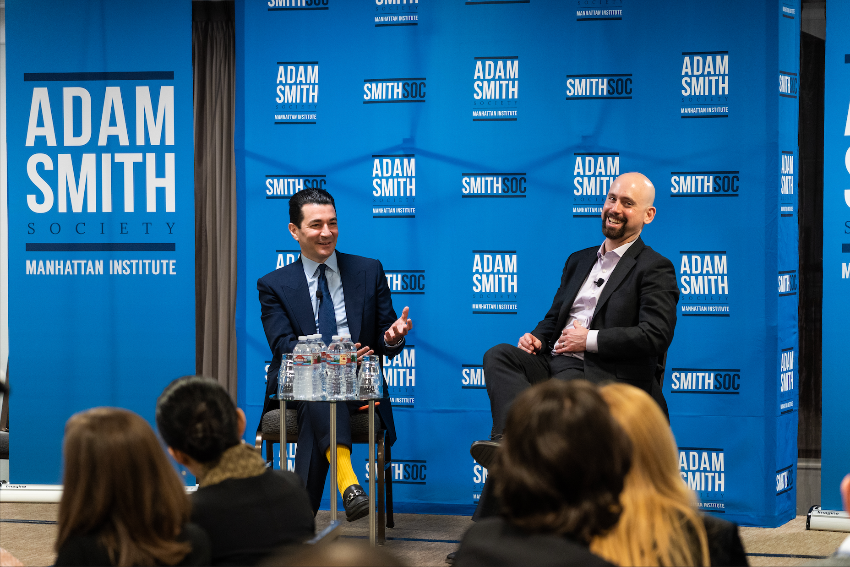 Last week, more than 100 Adam Smith Society members and healthcare industry experts met in San Francisco for our Health Care 2040 conference, an industry conference focused on technological and business model innovation in health care over the next several decades.
The Smith Soc Wharton Chapter hosted a well-attended event on the morning of Monday May 1st, a Debate: "The Future of American Health Care." Moderated by Dan Polsky of the Wharton School, panelists were: Paul Howard of the Manhattan Institute, Ezekiel Emanuel of the Penn Department of Medical Ethics and Health Po
The Smith Soc chapter at the MIT Sloan School of Management hosted noted conservative intellectual and policy expert Yuval Levin on Thursday, March 16, for a wide-ranging discussion centering on health care reform. 
Smith Soc Treks, the Adam Smith Society's ongoing series of weekend-long, destination-based seminars, opened our Spring 2017 program this past weekend. From March 9th through 12th, a select group of Smith Soc student and professional members met with experts in the field of health care policy. With a program entitled, "Rebooting Health Care," the Treks series embraced a timely topic: discussions recently began in Congress and in the media over the proposed American Health Care Act (AHCA).
Senator Tom Coburn was on the road for Smith Soc in late October, a guest of our Chapter at Dartmouth College's Tuck School of Business and visiting with our affiliated students at Harvard Business School. In addition to being an advisor to the Manhattan Institute's Project FDA, the former Congressman and Senator from Oklahoma is also a successful businessman and medical doctor.
From the controversy in the mainstream press surrounding Turing Pharmaceuticals to the discussions surrounding the ongoing implementation of the Affordable Care Act, healthcare continues to be a major concern among both the business community and the population at large. Recent Adam Smith Society events, hosted by two of our on-campus chapters, provided MBA students and their university communities with perspectives on a variety of issues surrounding healthcare and business.
On Tuesday April 22, the Smith Soc Chapter at the Cornell University Johnson Graduate School of Management hosted a debate on healthcare policy. Participants were Manhattan Institute Fellow Avik Roy, a former advisor to several Repulbican presidential candidates on healtcare, inlcuding Mitt Romney, and Professor Robert Frank, the Henrietta Johnson Louis Professor of Management and Professor of Economics at the Johnson School.
The Smith Soc chapter at the University of Texas McCombs School of Business in Austin hosted a a debate on healthcare policy on January 27th. The debate featured Senior MI Fellow Avik Roy, who advised Mitt Romney, Rick Perry, and Marco Rubio on healthcare policy; William Sage, MD, JD, the James R. Dougherty Chair for Faculty Excellence in Law at the UT Law School and Professor of Surgery and Perioperative Care in the Dell Medical School; and Professor John Doggett, MBA, of the McCombs School, who served as moderator.