All About Driverless Cars
February 28, 2019
As part of the Smith Society

Aspiring for variety,

We look at autonomy

Within the economy.

I hope it brings notoriety!

—Limerick by UVA Darden member James (Asher) Begley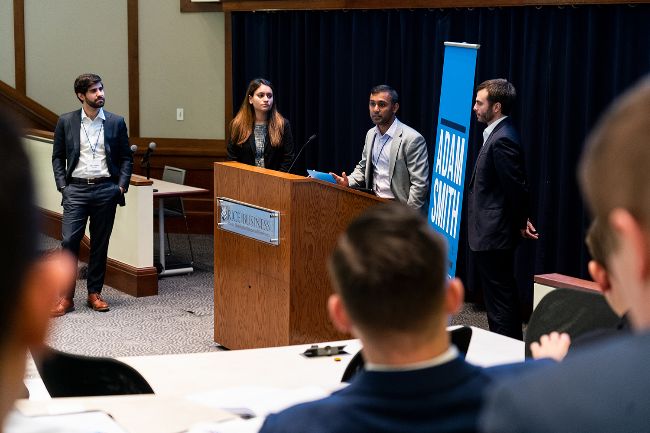 This weekend, more than 50 student members, expert judges, and guests convened at Rice University in Houston for our second annual case competition.




This year's prompt focused on how driverless-car technology firm Aurora and its partner Volkswagen could best approach bringing high-level driverless automobiles to market.



Nine student chapters—representing UCLA Anderson, Yale SOM, Georgetown McDonough, Notre Dame Mendoza, NYU Stern, Columbia Business School, UVA Darden, BYU Marriott (2018 winner), and Rice Jones (host)—competed. Judges and speakers included Marilyn Fedak, Adam Smith Society co-founder; Vik Bakshi, Smith Soc member and McKinsey senior associate; Sven Beiker, founder of Silicon Valley Mobility and a lecturer at Stanford GSB; Mark Mills, Manhattan Institute senior fellow; Rice University professor Alessandro Piazza; Yale ethicist Wendell Wallach; and Silicon Valley legal expert Stephen Wu.
Congratulations to all our competing teams. UCLA Anderson took home first place ($6,000), followed by BYU Marriott in second place ($4,000) and UVA Darden in third place ($3,000). Thank you to our host chapter, Jones Graduate School of Business, for helping to make this a great weekend.
On a related note, Intelligence Squared US will join us at the 2019 National Meeting for a live debate on driverless cars, featuring the following expert debaters:
Jeffrey Sachs | Director, United Nations Sustainable Development Solutions Network; and director, Center for Sustainable Development at Columbia University
Chris Urmson | Cofounder and CEO of Aurora
Meredith Broussard | Data journalist and author, Artificial Unintelligence: How Computers Misunderstand the World
Ashley Nunes | Research scientist, MIT Center for Transportation Logistics
Don't forget to register for the National Meeting by March 4!