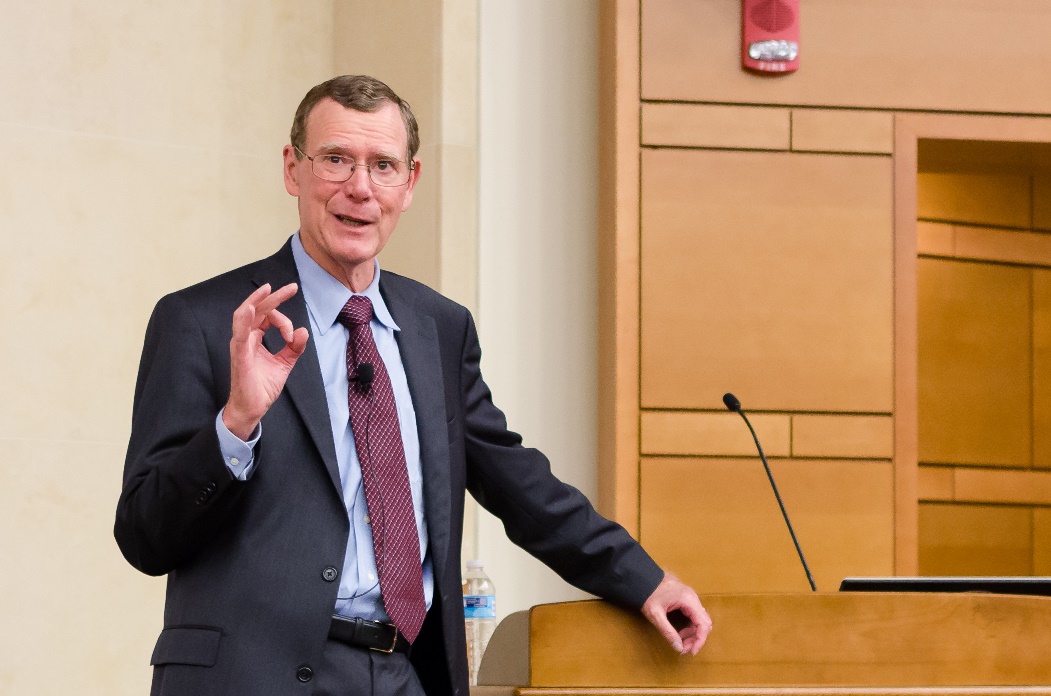 John Allison Visits with Multiple Chapters in North Carolina
November 23, 2015
Several of the Adam Smith Society's North Carolina chapters were happy to have the opportunity to host John A. Allison at a series of events in November. Mr. Allison visited Smith Soc chapters at the Wake Forest University School of Business, the Duke University Fuqua School of Business, and the University of North Carolina Kenan-Flagler Business School.
Currently the chairman of the Executive Advisory Council of the Cato Institute's Center for Monetary and Financial Alternatives, Mr. Allison is the former CEO of BB&T Corporation, and the author of two books, most recently The Leadership Crisis and the Free Market Cure: Why the Future of Business Depends on the Return to Life, Liberty, and the Pursuit of Happiness.
He visited Wake Forest University on November 6. In an event co-sponsored by the Federalist Society and BB&T Center for the Study of Capitalism, Mr. Allison spoke to the Wake Forest Smith Soc chapter on the theory and practical applications of free market capitalism and libertarian thought. On November 18, he visited Duke University for a conversation about the importance of freedom and capitalism for a prosperous society. He discussed many of the principles presented in his new book. Finally, on November 22, he met with the chapter at the University of North Carolina for a book signing and dinner conversation. Each witnessed a great turnout, spirited and dynamic discussion between John Allison and attendees, and a great deal of enthusiasm from all.