National Meeting 2018: More than 350 Smith Soc Guests Convene in New York City
April 23, 2018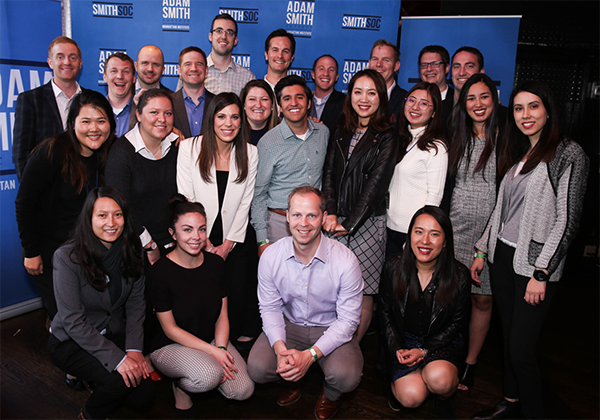 On April 20 and 21, a record-breaking 350+ Adam Smith Society members, supporters, and invited guests convened in New York City for the 2018 National Meeting. Over the course of two days, attendees immersed themselves in business and public policy expertise from leaders in the field, and networked with their colleagues from across the country and beyond.
On Friday evening, the conference started with a private reception for chapter leaders and special guests. Each president from our award-nominated student chapters — Baylor, BYU, USC, UVA Darden, U. Michigan, NYU, and Northwestern — gave individual toasts where they reflected on their experience with the Adam Smith Society and their respective chapters. Adam Smith Society senior director Alison S. Mangiero then awarded the first-ever Featured Member of the Year award to Matthew Cooke, an alumnus of our Stanford Business School chapter and current host committee member for our London professional chapter. After the reception and registration, Friday evening programming commenced.
Michael Anton joined the Manhattan's Institute Vanessa Mendoza for a fireside chat on foreign policy and inner workings of the National Security Council. Anton, a former corporate and policy speechwriter, contrasted his experience in the current administration to his time serving in George W. Bush's administration, with particular emphasis on the current administration's approach to foreign affairs and trade policy. He also reflected on his personal experience in public life.
The Manhattan Institute's president Lawrence J. Mone awarded the 2018 Principled Leadership Award to Cliff S. Asness (@CliffordAsness) of AQR Capital Management. MI senior fellow James R. Copland (@JamesRCopland) joined Cliff on stage for a wide-ranging chat on economics, business, politics, and investing. Cliff commented on how his investing and political philosophies interact: "Markets are far more efficient than any other way we've thought about allocating resources and capital. But yes, they aren't always perfect."
On Saturday, the morning started with remarks by Adam Smith Society advisory board member and co-founder, Marilyn G. Fedak. Ms. Fedak spoke on the moral arguments for capitalism and its track record of increasing human welfare throughout the world. Then, MI's Lawrence J. Mone award the 2018 Milstein Fellowship to Jonathan Laxmi.
Edward Conard (@EdwardConard), founding partner of Bain Capital and author of The Upside of Inequality, spoke on labor dynamics in the 21st century and how a free-market approach can resonate with a middle class that has often been left behind by automation and global trade. Conard suggested a bargain-based approach to find common ground among constituents and address the long-term fiscal challenges facing the U.S.
The Wall Street Journal's "The Americas" columnist Mary Anastasia O'Grady (@MaryAnastasiaOG) then interviewed Dartmouth economist and trade scholar Douglas A. Irwin (@D_A_Irwin) on his book, Clashing Over Commerce. Irwin detailed the history of U.S. trade policy; how "the accidents of history created infant domestic industries" that sought protectionism in the 19th century, how the mid-20th century gave rise to the types of trade agreements we know today, and trade surpluses and deficits are misguided metrics for juding trade.
Dambisa Moyo (@dambisamoyo), economist and author, gave a luncheon keynote on her book Edge of Chaos: Why Democracy Is Failing to Deliver Economic Growth—and How to Fix It. 
In between Saturday sessions, members were able to attend small group and one-on-one meetings with certain National Meeting speakers and invited guests. Participants included Douglas Irwin, author Nicholas Carr, the WSJ's James Taranto, Daniel Schuchman of MSD Partners, and City Journal contributing editor/MI adjunct fellow Judith Miller, and more. Members were able to gain insights from these speakers on their personal and professional experience.
Our last programmatic event was a debate on bitcoin and cryptocurrencies presented in partnership with Intelligence Squared U.S. Introduced by IQ2 U.S. chairman Robert Rosenkranz and Adam Smith Society's Alison S. Mangiero, journalist John Donvan (@JohnDonvan) hosted the debate on the motion "Bitcoin is more than a bubble... and here to stay." Patrick Byrne (@OverstockCEO), CEO of Overstock.com, and Tim Draper (@TimDraper), prominent VC, argued for the motion; Eric Posner, law professor at the University of Chicago, and Gillian Tett (@GillianTett) of the Financial Times, against. Watch the full video below to find out how the audience voted before and after the debate:
To close the weekend, members and guests enjoyed a rooftop cocktail reception and chapter awards ceremony. UVA Darden (Chapter of the Year), BYU (Best New Chapter), and Northwestern (Comeback Chapter) all received chapter awards. With views of midtown Manhattan, the reception was a friendly and scenic cap to the National Meeting.
View more #SmithSoc18 photos and videos below, and stay tuned for next year's National Meeting! Stay up-to-date with all of our events and programming throughout the year on social media, @smithsoc.