The Principled Leadership Award is presented annually at the Adam Smith Society's National Meeting in New York City. The Award honors thoughtful business leaders who understand the centrality of the free market in both our economic system and our civic life. 
2020/21 Principled Leadership Award
Jeff Yass, Founding Partner, Susquehanna International Group
Jeff Yass will receive the Adam Smith Society's Principled Leadership Award and speak at the 2021 National Meeting. The Principled Leadership Award honors business leaders who understand the centrality of free markets to our economic system and civic life.
Jeff Yass is the founding partner and managing director of Susquehanna International Group, LLP, a private global securities firm. His responsibilities include the management and trading of the firm's portfolio. He received a B.A. in Mathematics and Economics from the State University of New York at Binghamton. He is a member of the Board of Directors of the Cato Institute and is an avid golf and poker player. He and his wife, Janine, have four adult children.
2019 Principled Leadership Award
Daniel Loeb, Founder and CEO, Third Point LLC
Daniel Loeb—Founder and CEO, Third Point LLC—received the Adam Smith Society's 2019 Principled Leadership Award and spoke at the 2019 National Meeting.
Daniel Loeb founded Third Point LLC, a leading institutional asset management firm headquartered in New York, in 1995. As Chief Executive Officer, he leads portfolio management and research activities. Third Point invests globally in equities and in credit, and frequently takes a constructive approach to engaging with management teams and boards of directors to bring about changes necessary to create shareholder value. The firm manages capital for an investor base that includes sovereign wealth funds, corporate and government pensions, insurance and reinsurance companies, emerging and developed markets, ultra-high net worth individuals, and international private banks.

He has served on five publicly-traded company boards: Ligand Pharmaceuticals; POGO Producing Co.; Massey Energy; Yahoo!; and Sotheby's, where he is a current board member. Daniel has served on numerous Board Committees including Executive, Compensation, Nominating and Corporate Governance, and Business Strategy.
 
Daniel Loeb's primary philanthropic interests include criminal justice reform, educational and economic opportunity, human rights, and Jewish and Israel causes. He serves on the board of Success Academy Charter Schools, America's highest-performing public charter school network, and supports a number of medical research initiatives, including the Ronald M. Loeb Center for Alzheimer's Disease at Mount Sinai Health System in New York City, named for his father, where Daniel Loeb is also a trustee. He is a Member of the Council on Foreign Relations.
 
He graduated from Columbia University with an A.B. in economics in 1983, endowed the Daniel S. Loeb Scholarship for undergraduate study, and received the school's John Jay Award for distinguished professional achievement.
2018 Principled Leadership Award Winner
Cliff S. Asness, Founder, Managing Principle, and Chief Investment Officer, AQR Capital Management
Cliff S. Asness is a Founder, Managing Principal, and Chief Investment Of cer at AQR Capital Management. He is an active researcher and an award-winning author on a variety of  nancial topics for many publications. Prior to cofounding AQR Capital Management, he was a managing director and director of quantitative research for the Asset Management Division of Goldman, Sachs & Co. He is on the editorial board of The Journal of Portfolio Management, the governing board of the Courant Institute of Mathematical Finance at NYU, the board of directors of the Q-Group, and the board of the International Rescue Committee. Asness received a B.S. in economics from the Wharton School and a B.S. in engineering from the Moore School of Electrical Engineering at the University of Pennsylvania, graduating summa cum laude in both. He received an M.B.A. and a Ph.D. in finance from the University of Chicago, where he was Eugene Fama's student and teaching assistant for two years (so he still feels guilty when trying to beat the market).
2017 Principled Leadership Award Winner
Kenneth P. Griffith, Founder and CEO, Citadel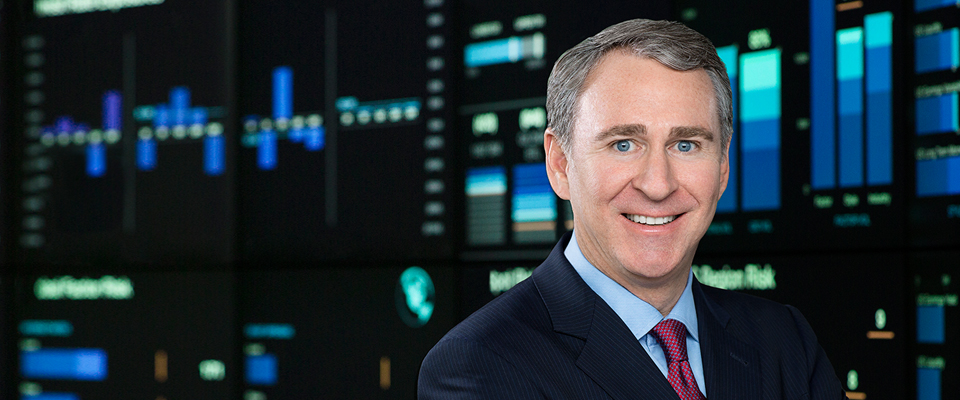 Kenneth Griffin is the Founder and Chief Executive Officer of Citadel. A diverse financial institution, the Citadel group includes Citadel, an industry-leading alternative asset manager; Citadel Securities, one of the leading liquidity providers in America's capital markets; and Citadel Technology, a solutions provider for investment management technology. Mr. Griffin is a member of numerous civic, business, and economics organizations, and is an active supporter of the arts and culture in his home city of Chicago.