The Adam Smith Society Readers' Roundtable is a virtual quarterly book club that provides members an opportunity to dive deeper into some of today's most insightful and influential books on free market ideas and public policy. Calls are off-the-record and audience participation is highly encouraged.
Complimentary book copies are guaranteed for supporting members of the Adam Smith Society. Find out about our support levels here.
Session 9
March 28, 2023 — Regulation and Business: A Case Study
Judge Glock is the director of research and a senior fellow at the Manhattan Institute and a contributing editor at City Journal. He was formerly the senior director of policy and research at the Cicero Institute, a nonpartisan think tank based in Austin, and a visiting professor of economics at West Virginia University. He writes about the intersection of economics, finance, and housing, with a perspective informed by his work in economic history. Glock's work has been featured in Tax Notes, the Journal of American History, the New York Times, and the Wall Street Journal, among other places. He is the author of the book The Dead Pledge: The Origins of the Mortgage Market and Federal Bailouts, 1913-1939, published in 2021 by Columbia University Press. He received his Ph.D. in history with a focus on economic history from Rutgers University. 
Session 8
December 6, 2022 — Green Energy
James B. Meigs is a senior fellow of the Manhattan Institute and a contributing editor of City Journal. He is the former editor of Popular Mechanics, where he helped reposition that century-old brand to become a major voice on technological issues of the day. He currently cohosts the How Do We Fix It? podcast and writes the Tech Commentary column for Commentary magazine. His coverage of energy, environmental policy, culture, and other topics has appeared in the Wall Street Journal, Slate, the New York Times, and other publications. He holds a B.A. in philosophy from Dartmouth College.
Session 7
September 14, 2022 — Streets of Gold: America's Untold Story of Immigrant Success
Ran Abramitzky is professor of economics and the senior associate dean for the social sciences at Stanford University, a research associate at the National Bureau of Economic Research, and a senior fellow at the Stanford Institute for Economic Policy Research.
Leah Boustan is professor of economics and director of the Industrial Relations Section at Princeton University, and codirector of the Development of the American Economy Program at the National Bureau of Economic Research.
Session 6
May 9, 2022 — The Voltage Effect: How to Make Good Ideas Great and Great Ideas Scale
Professor John List is the Kenneth C. Griffin Distinguished Service Professor in Economics at the University of Chicago. His research focuses on combining field experiments with economic theory to deepen our understanding of the economic science. List pioneered field experiments as a methodology for learning about behavioral principles that are shared across different domains. This has led to collaborative work with several different firms including: Lyft, Uber, United Airlines, Virgin Airlines, Humana, Sears, Kmart, Facebook, Google, General Motors, Tinder, Citadel, and several non- profits. List has published nearly 200 peer-reviewed research publications. List was elected a Member of the American Academy of Arts and Sciences in 2011, and a Fellow of the Econometric Society in 2015. List received the 2010 Kenneth Galbraith Award and 2008 Arrow Prize for Senior Economists for his research in behavioral economics in the field. List has served as a Senior Economist on the President's Council of Economic Advisers (2002-2004), and serves as an IZA Institute for the Study of Labor Research Fellow and RFF Resources for the Future University Fellow. https://voices.uchicago.edu/jlist/
Session 5
March 8, 2022 — The Sack of Detroit: General Motors and the End of American Enterprise
Kenneth Whyte is an internationally recognized journalist who currently serves as the publishing and telecommunications executive and chairman of the Donner Canadian Foundation. His two previous books, Hoover: An Extraordinary Life in Extraordinary Times and The Uncrowned King: The Sensational Rise of William Randolph Hearst, were both highly acclaimed for their depth and fresh perspective. Mr. Whyte is the founder of Sutherland House Books and is a senior fellow at Massey College.
Session 4
December 7, 2021 — Woke, Inc.: Inside Corporate America's Social Justice Scam by Vivek Ramswamy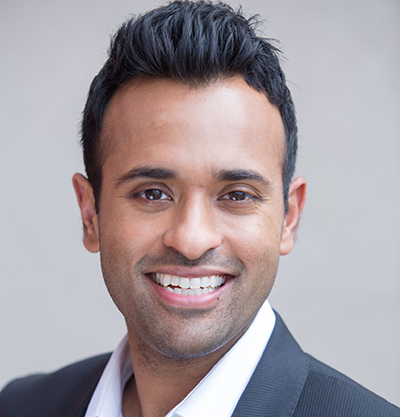 Vivek Ramaswamy is founder and executive chairman of Roivant Sciences. Roivant is focused on developing transformative medicines faster by building technologies and deploying talent in creative ways and has developed over 40 medicines in multiple disease areas. He is also the author of Work, Inc., and a graduate of Yale Law School.
Session 3
September 22, 2021 — Maverick: A Biography of Thomas Sowell by Jason Riley
Jason Riley is a senior fellow at the Manhattan Institute, a columnist for the Wall Street Journal, and a commentator for Fox News. He is author of several books, including most recently Maverick: A Biography of Thomas Sowell (May 2021). He is a recipient of the 2018 Bradley Prize.
Session 2
May 24, 2021 — Open: The Story of Human Progress by Johan Norberg
Johan Norberg is an author, lecturer and documentary filmmaker, born in Sweden. He is a senior fellow at the Cato Institute in Washington D.C. and the European Centre for International Political Economy in Brussels. He received his M. A. in the history of ideas from the University of Stockholm.
 
He has written books on a broad range of topics, including global economics and popular science. His 2016 book Progress: Ten Reasons to Look Forward to the Future, was an international bestseller, published in 20 countries. His most recent book is Open: The Story of Human Progress, just been named a "book of the year" in The Economist. Norberg regularly hosts documentaries on development and economics for American public television, including Free or Equal?, Economic Freedom in Action, Power to the People and The Real Adam Smith.
Session 1
March 30, 2021 — The Great Reversal: How America Gave Up on Free Markets by Thomas Philippon.
Thomas Philippon is the Max L. Heine Professor of Finance at New York University, Stern School of Business. Philippon was named one of the "top 25 economists under 45" by the IMF in 2014. He has won the 2013 Bernácer Prize for Best European Economist under 40, the 2010 Michael Brennan & BlackRock Award, the 2009 Prize for Best Young French Economist, and the 2008 Brattle Prize for the best paper in Corporate Finance. His recent book The Great Reversal (Harvard Press, 2019) focuses on the increasing market power of large firms.
He currently serves as an academic advisor to the Financial Stability Board and to the Hong Kong Institute for Monetary and Financial Research. He was previously an advisor to the New York Federal Reserve Bank, a board member of the French prudential regulatory authority from 2014 to 2019, and the senior economic advisor to the French finance minister in 2012-2013. Philippon graduated from Ecole Polytechnique, received a PhD in Economics from MIT and joined New York University in 2003.
Discussion Leaders
Will Gruy is a founding member of the Houston professional chapter of the Adam Smith Society. Will works with clients across the U.S. on corporate strategy as a consultant at FMI, using a research and evidence-based approach in order to achieve improved financial results, internal leadership development and organizational focus.​ Will received his Bachelor of Arts in humanities from John Cabot University in Rome, Italy, and his MBA from the University of Texas at Austin, where he was also a member of the McCombs Adam Smith Society chapter.
Matthew Maughan has been active in the Adam Smith Society since 2016, serving as founder and president of the Michigan Ross chapter from 2016-2017 and in the host committee of the Boston and New York City professional chapters. Matthew received his BA in economics and international political economy from Fordham University in 2010. He then served in the United States Marine Corps as a logistics officer from 2010-2014, including a tour to Afghanistan as a logistics advisor to the Afghan National Army. Matthew has worked in various commercial roles in the pharmaceutical industry and now is a commercial finance forecaster with Regeneron in Sleepy Hollow, NY.