In our newsletter this summer, we shared books recommended by Brian C. Anderson, City Journal editor and host of City Journal's 10 Blocks Podcast. In an August episode with Manhattan Institute executive vice president Vanessa Mendoza, Anderson shared a list of seven books that range from Adam Smith to V.S. Naipaul.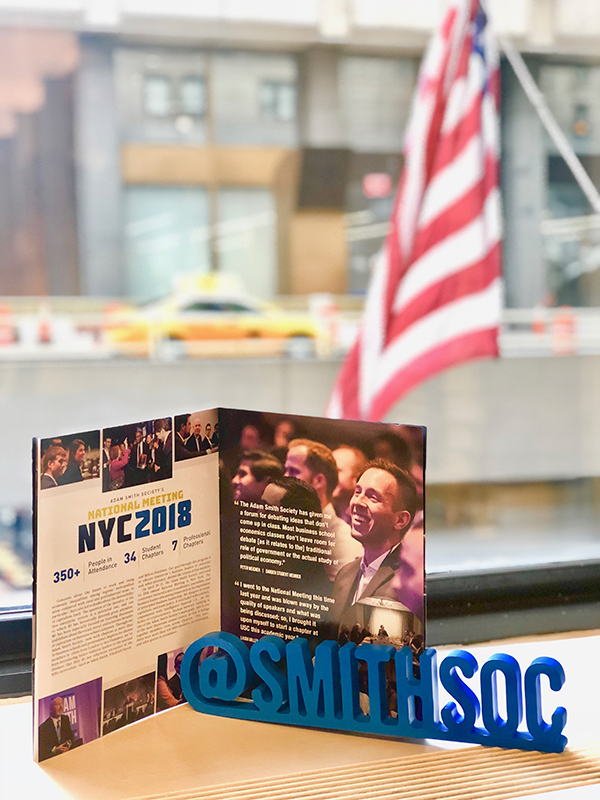 As a project of the Manhattan Institute—a leading public policy think tank based in New York City—the Adam Smith Society is able to promote thoughtful discussion on economics, public policy, and business through our MBA and professional chapters, exclusive opportunities, and global network.
In a new video created by the Chicago Boot Review, ethicist and Chicago Booth professor John Paul Rollert examines Adam Smith's use of the "invisible hand" as both a phrase and a theme in his writing. Watch below to find out how many times Adam Smith actually included "invisible hand" across his works. 
Our chapter at the MIT Sloan School of Management welcomed two speakers to a salon dinner on November 14.
The Smith Soc chapter at the UVA Darden School of Business hosted John Mackey, CEO of Whole Foods Markets, on March 22nd. Mackey spoke on the concept of "Conscious Capitalism," which he has written and spoken about extensively.
The Adam Smith Society chapter at the SMU Cox School of Business held its first event last Thursday evening. After dinner and a warm introduction from Professor Bob Lawson, the Independent Institute's Dwight Lee spoke to the assembled members about Adam Smith and the Morality of Markets.
The Adam Smith Society held its fourth National Meeting on Friday February 19th and Saturday February 20th in New York City. Members from every chapter were in attendance as members were treated to a full program of lectures, disucssions, forums, breakout networking sessions, and the annual trivia competitition.