Last month, members from our student and professional chapters trekked to Edinburgh, Scotland for a weekend immersed in the texts of Adam Smith and local culture where he spent many years. In discussions led by Adam Smith scholar Dr.
This fall, our chapters in the U.S. and abroad have been active with numerous events on business, public policy, and more. 
On June 15, we welcomed Wake Forest University professor James Otteson for a Saturday seminar in New York. Otteson discussed the principles of Adam Smith and how to apply those principles to current economic issues.
Last week, a group of Smith Soc members from across the country embarked on a weeklong trek to Israel. Over the course of the trip, members unraveled how Israel became the Startup Nation—meeting with representatives from venture capital, startups, government, and the media, including the Jerusalem Post. Members toured Old City Jerusalem and met with the former chief scientist of the Israeli Ministry of Economy. The group also visited JVP, a prominent venture capital firm, and Mobileye, a leading autonomous vehicle company.
In our newsletter this summer, we shared books recommended by Brian C. Anderson, City Journal editor and host of City Journal's 10 Blocks Podcast. In an August episode with Manhattan Institute executive vice president Vanessa Mendoza, Anderson shared a list of seven books that range from Adam Smith to V.S. Naipaul.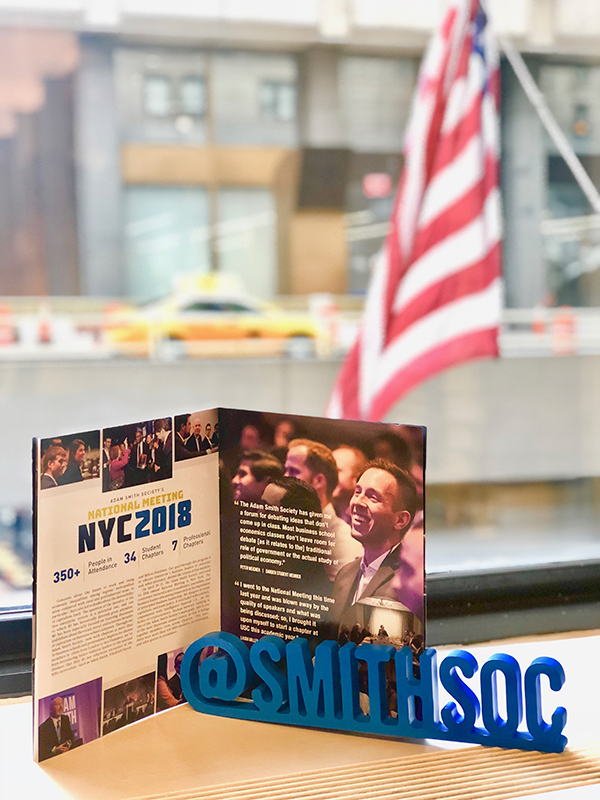 As a project of the Manhattan Institute—a leading public policy think tank based in New York City—the Adam Smith Society is able to promote thoughtful discussion on economics, public policy, and business through our MBA and professional chapters, exclusive opportunities, and global network.
In a new video created by the Chicago Boot Review, ethicist and Chicago Booth professor John Paul Rollert examines Adam Smith's use of the "invisible hand" as both a phrase and a theme in his writing. Watch below to find out how many times Adam Smith actually included "invisible hand" across his works. 
Our chapter at the MIT Sloan School of Management welcomed two speakers to a salon dinner on November 14.