Why do public policy solutions often fail to meet the lofty expectations of lawmakers? In an energetic new work, The Voltage Effect, University of Chicago economist John List investigates what makes a policy agenda succeed. Mr. List joined a group of Adam Smith Society members for an online discussion on his new book on Monday, May 9. Attending remembers received a copy of The Voltage Effect.
On January 28 and 29, our 2021-22 MBA student chapter leaders gathered for a Chapter Leader Retreat in Arlington, Virginia, where they connected and learned from experts across economics and public policy, including Jonah Goldberg, Maria Paganelli, Adam Smith Society Co-Founder Marilyn Fedak, Steven Teles, and Donald Boudreaux.
On November 17, Adam Smith Society Young Leaders gathered in New York City to listen to a fireside chat with MI's Allison Schrager and AQR founder and Chief Investment Officer Cliff Asness on "Shareholder Primacy and Stakeholder Welfare." The co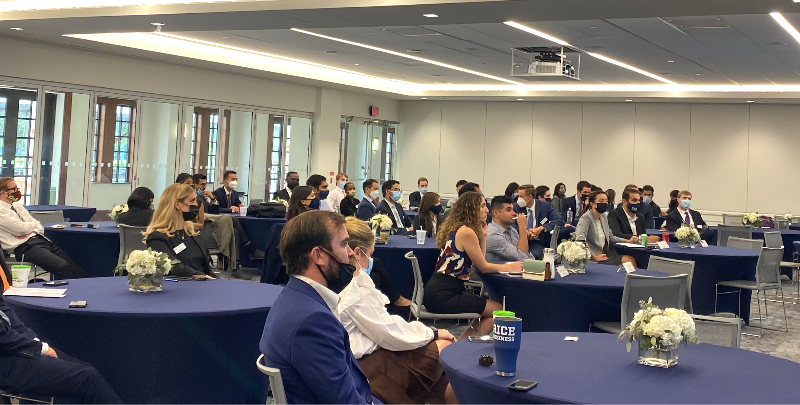 On September 18, our Rice Jones chapter kicked off its 2021-2022 programming with a talk on the microchip shortage and supply chain disruption more broadly by Cato Institute senior fellow Scott Lincicome.
For the past decade, the Adam Smith Society has brought together students at top MBA schools and young professionals who believe in the power of free markets to enhance human flourishing and opportunity, through civil debates and discussions. Likewise, Manhattan Institute's Young Leaders Circle, founded in 2007, has provided young professionals in New York City with an unparalleled opportunity to hear from some of the country's most noted intellectuals, journalists, and business and thought leaders. 
Right before Labor Day, young supporters of the Adam Smith Society from across the state of Texas gathered in Austin to participate in a robust discussion with Manhattan Institute president Reihan Salam and director of State and Local Policy Michael Hendrix.