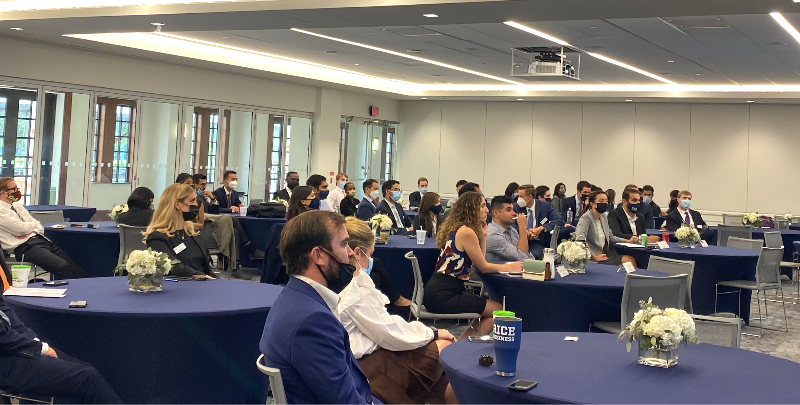 On September 18, our Rice Jones chapter kicked off its 2021-2022 programming with a talk on the microchip shortage and supply chain disruption more broadly by Cato Institute senior fellow Scott Lincicome.
For the past decade, the Adam Smith Society has brought together students at top MBA schools and young professionals who believe in the power of free markets to enhance human flourishing and opportunity, through civil debates and discussions. Likewise, Manhattan Institute's Young Leaders Circle, founded in 2007, has provided young professionals in New York City with an unparalleled opportunity to hear from some of the country's most noted intellectuals, journalists, and business and thought leaders. 
Right before Labor Day, young supporters of the Adam Smith Society from across the state of Texas gathered in Austin to participate in a robust discussion with Manhattan Institute president Reihan Salam and director of State and Local Policy Michael Hendrix.
National Meeting 2021 took place online last week. We welcomed a range of top executives, thought leaders, and academics for discussion on free-market capitalism's biggest challenges—from woke capitalism, to inequality and human capital, to cronyism.
 
Speakers inclued Dr. Condoleezza Rice, Jeff Yass, Steve Liesman, Vivek Ramaswamy, Luigi Zingales, Jason Riley, Allison Schrager, and more.
 
Last week, Smith Soc members from across the country put their business skills and free-market knowledge to the test in our annual case competition. Teams prepared excellent case solutions to present before a panel of expert judges.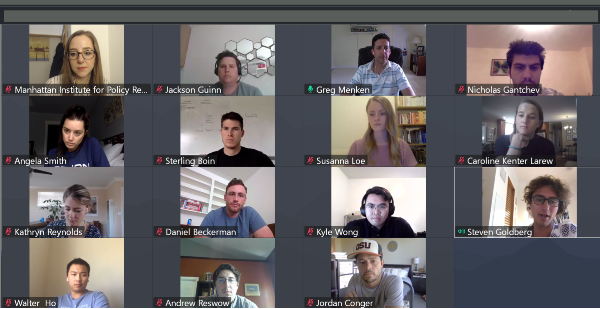 Our incoming 2020-21 student chapter leaders convened for a virtual Leadership Retreat last week.
Despite the cancellation of the 2020 National Meeting, we are excited to announce Chapter Awards for the 2019-20 academic year.
Read Manhattan Institute's Spring 2020 President's Update from Reihan Salam, which highlights our "Health Care 2040" conference in San Francisco earlier this year, the Institute's response to the coronavirus pandemic, and more.
In our goal to deliver unique opportunities to our members during this challenging time, launched virtual programming—a series of interactive online video briefings by policy experts on a variety of topics including the many dimensions of the evolving coronavirus crisis.
This past weekend, the Adam Smith Society held its third-annual Case Competition in Los Angeles, CA. Smith Soc's multi-chapter case competition ("Case Comp"