GREG MENKEN

Executive Director
Greg Menken brings two decades of experience in membership and donor development, coalition building, event management, and public affairs to his role as executive director of the Adam Smith Society. He has been on the front lines of many important debates of our time, from economic and foreign affairs, to matters of personal liberty. Through years of public speaking and debating, Greg has come to deeply appreciate the need for the Adam Smith Society's uniquely immersive platform to promote fair-minded discussion about the profound benefits of a free-market economic system.
After getting his start in politics as an aide to former New York City Council Speaker Peter Vallone, Greg joined the coalitions team for the successful reelection campaign of New York Governor George Pataki. He was subsequently recruited to launch the New York regional office of the Republican Jewish Coalition, where he recruited, activated, and trained thousands of members and grassroots volunteers. Prior to joining the Adam Smith Society, Greg was an award-winning public-relations executive on the senior management team of one of the nation's top-ten independent PR firms, managing the agency's public affairs and crisis communications clients.
Greg received a BA in economics and political science from Columbia College, where he was a member of the Columbia Ivy League Championship Soccer Team. He earned an MPA in nonprofit management from New York University. A native New Yorker, Greg now lives in New Jersey with his wife and two sons.
Yael Hungerford

Deputy Director
Yael Levin Hungerford is the deputy director of the Adam Smith Society. With a background in political theory, she comes to the position with a keen interest in exploring the virtues of the free market and better understanding the challenges it faces today. She has several years of experience with non-profit educational programs and strategic philanthropic giving. In her most recent position at a private foundation, she oversaw a $2 million portfolio of grants.
She has a Ph.D. in political science from Boston College, and an A.B. in philosophy from the University of Chicago. She is the recipient of numerous academic fellowships, among them from the Bradley Foundation, the Earhart Foundation, and the Institute for Humane Studies. She lives with her husband and two kids a short train ride away from New York City.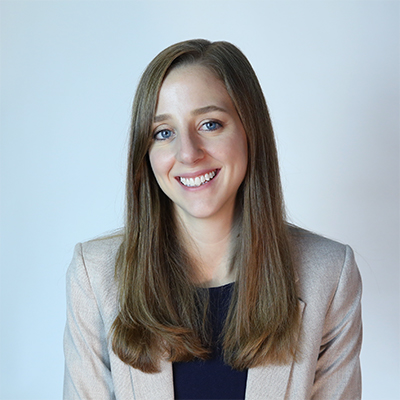 Maria D'Anselmi

Program Officer
Maria D'Anselmi is a program officer at the Adam Smith Society. She holds a bachelor's degree in english from the University of Dallas, and has prior experience in education and journalism. Maria is from the Hudson Valley and currently lives in Brooklyn.
Kate Ferguson

Program Officer
Kate Ferguson is a program officer at the Adam Smith Society. She holds a bachelor's degree from the University of Texas at Austin where she studied Government. Prior to joining the Adam Smith Society Kate worked in the Texas State Legislature for both House and Senate members. Originally from Connecticut, Kate now resides in New York City.
Susanna Loe

Program Officer
Susanna Loe is a program officer at the Adam Smith Society. She holds a bachelor's degree from Palm Beach Atlantic University, where she studied public relations and politics. Previously, she worked at a journalism institute and in political media. Originally from Texas, Susanna lived overseas for 15 years and now resides in New York City.
Gregory J. Fitton

Marketing Communications Manager
Gregory J. Fitton is a marketing manager for the Adam Smith Society, where he helps create multimedia content and digital communications. Gregory is from the greater New York City area and graduated from Syracuse University.
Contact Us